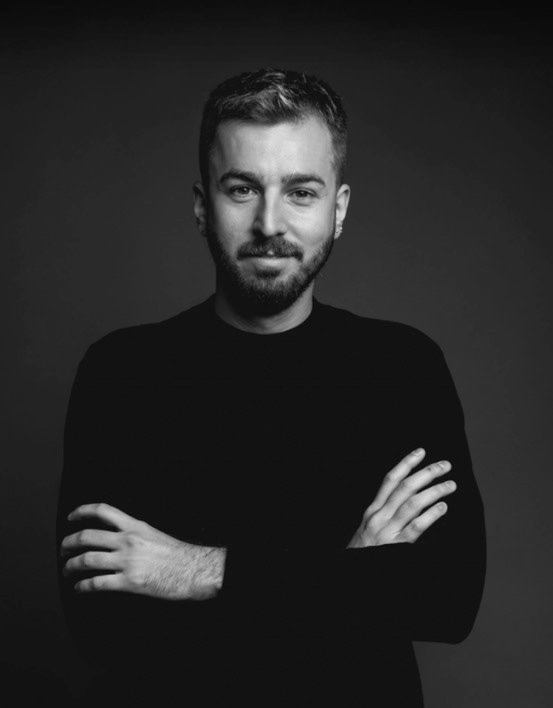 Sasha Vreca holds a Bachelor of Fine Arts degree from the University of Ottawa, as well as a diploma in 3D animation from La Cite. He has achieved serval significant milestones in his career as an emerging artist, starting with his first solo show at the esteemed AxeNeo7 Center of Contemporary Arts in 2014. Subsequently parts of the work were exported and shown in Serbia, Ukraine, and Turkey, receiving local recognition.
In addition to his visual art, Sasha has also delved into celluloid film production, creating three short films in 16mm that have circulated in indie festivals and art venues from 2012-2015. He is also a founding member of the "FAU" audio-visual collective in Gatineau, which has created various activations within public spaces in the national capital region (Ottawa, Canada), as well as featuring both Canadian and international audio and visual artists from 2011 to 2016 as part of their inhouse programing. Additionally, Sasha has also presented a series of live video performances internationally, performing his video work at events such as Mutek in 2018 as well as various art spaces and venues across central and eastern Europe. 
As part of his ongoing process he's committed to ongoing research and development within the realm of media art. By pushing the boundaries of new mediums such as virtual reality and immersive content, he aims to create thought-provoking experiences that challenge conventional notions of art and technology and explore their relationship with space, scale and narrative. 
As a visual artist I specialize in multimedia and installation art. My work primarily explores topics related to the intersection of technology, humanity, and social narratives. I investigate intriguing themes affecting the human condition in the current era such as war, media, data and ecology.
With a deep-rooted interest in technological arts and computer animation, I have dedicated my artistic practice to creating immersive experiences that challenge traditional boundaries. Through my multimedia installations, interactive projects, and ventures into virtual reality (VR), I aim to push the limits of the medium's artistic expression and engage audiences in unique and transformative ways.
Early on, my work drew inspiration from my background as a Canadian immigrant, the dichotomy of identity that comes with it as well as my experience as a refugee during the Yugoslavian civil war. My work is deeply informed by the political landscapes and personal narratives I have encountered and that of others in similar contexts. I am fascinated by the complexities of each individual's perceived realities and how they contribute to the fabric of a collective memory. Furthermore, I'm intrigued by the intricate relationship between individual behaviors and the transformations they bring to our environment. I examine the consequential results of our human behaviors and how they echo back onto ourselves and society as a whole - transforming us in the process. 

By blending traditional media art mediums and novel technologies such as AI and generative systems with evocative storytelling, I aim to create installations that encourage viewers to contemplate the intricate complexities of our world and their place within it. Through thought-provoking installations and immersive experiences, I invite viewers to reflect on the interconnectedness of our collective existence. 
​​​​​​​
2019
2019
2018
2018
2013
2012
2013
2011
2011
2010

Holdover Series II - A Foreign Sky

| 

AXENEO7 Centre for Contemporary Arts | Gatineau, Canada
Muthos
| 
Gallery 115 | 
Ottawa, Canada
Light Insitu / Luce in situ
| Visione Roma | Rome, Italy
L'Occhio Nella Mente II
 | Castello di Rocca Sinibalda | Rocca Sinibalda, Italy

L'Occhio Nella Mente II
 | Castello di Rocca Sinibalda | Rocca Sinibalda, Italy
| MUTEK | Montreal, Canada
Holdover Series I
 | Momentuum University of Ottawa 
Perez Audio Spectrum
 | Nuit Blanche - Perez Terrace Amphitheater | Ottawa, Canada

Magnetic Array II
 | La Petite Boite Noir | Sherbrooke, Canada
 | Gallery 115 | Ottawa, Canada
 | Electric Fields Fest by Artengine | Ottawa, Canada
| Saw Gallery - Gallerie Saw | Ottawa Canada
| 

3D Experimental Short

| Director
Rotator
|

3D Dome Movie
 | Director

|
 | Director
Occio Nella Mente
 | Castello di Rocca Sinibalda | Rocca Sinibalda, Italy
Occio Nella Mente
 | Castello di Rocca Sinibalda | Rocca Sinibalda, Italy
Entrepreneurship and

Business Startup Certificate
 | 
HEC Montreal | Montreal, Canada
Bachelor of Fine Arts (BFA)
| University of Ottawa | Ottawa, Canada
Diploma in 3D Animation
 | La Cite College | Ottawa, Canada
Dome Movie Production Residency
| Society for Arts and Technology | Montreal, Canada
Occio Nella Mente
 | Castello di Rocca Sinibalda | Rocca Sinibalda, Italy
Occio Nella Mente
 | Castello di Rocca Sinibalda | Rocca Sinibalda, Italy
Occio Nella Mente
 | Castello di Rocca Sinibalda | Rocca Sinibalda, Italy
Occio Nella Mente
 | Castello di Rocca Sinibalda | Rocca Sinibalda, Italy
Occio Nella Mente
 | Castello di Rocca Sinibalda | Rocca Sinibalda, Italy